According to the Cleveland Clinic, healthcare providers (Radiation Oncologists and Physician's Assistants in Oncology) may recommend creams that help treat severe radiation dermatitis (aka rad derm) or radiation burns.
Symptoms of rad derm:
Redness (erythema)
Soreness
Pigmentation changes (skin color)
Itching
Flaking (desquamation)
Peeling
Blistering
Ulceration (sores)
Necrosis (death of all or most of the skin cells)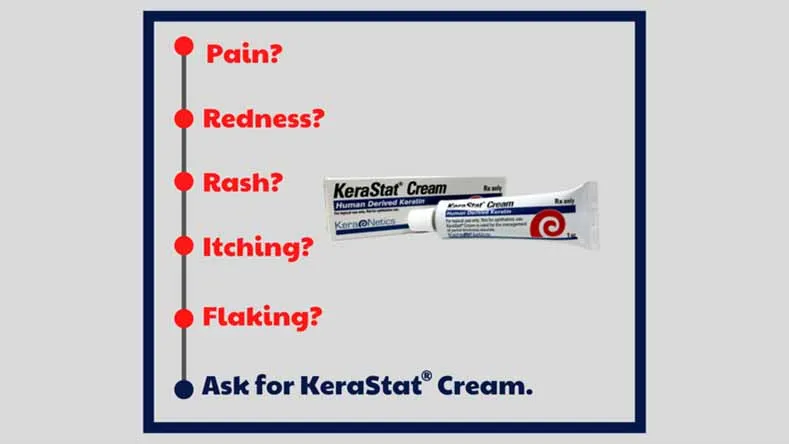 Over the counter (OTC) store bought creams can hydrate the skin and may also increase barrier function but have limited efficacy for treating, delaying, or managing the symptoms of rad derm1,2. Efficacy is defined as
how well something works.  
Additionally, advances in medical technology and human-derived keratin bioscience have led to new, prescription strength (Rx) treatments and management options for radiation burn or radiation dermatitis.  KeraStat®  Cream is available to help manage radiation dermatitis and its symptoms. KeraStat®  Cream supports the management of dry, light, and moderately exuding partial thickness wounds. Partial thickness wounds are defined as wounds that only go into one or two of the first two layers of skin. The outermost skin layer is the epidermis, and the inner skin layer is the dermis.
Hegedus F, Mathew LM, Schwartz RA. Radiation dermatitis: an overview. International Journal of Dermatology. 2017;56:909-914. PMID 27496623.
Kole AJ, Kole L, Moran MS. Acute radiation dermatitis in breast cancer patients: challenges and solutions. Breast Cancer – Targets and Therapy. 2017;9:313-323. PMID 38503074.