Luke Burnett, PhD
Chief Executive Officer and Chief Science Officer
Dr. Burnett has extensive experience working with keratin biomaterials and supervises projects investigating their use in wound and burn healing, tissue engineering and regenerative medicine applications. Dr. Burnett has extensive leadership experience both in science, leading teams of industry and academic scientists on several NIH and DoD funded projects, and recently retired as a Colonel after serving 27 years in the US Army. Dr. Burnett holds a BS from Sonoma State University, a MA from the US Army War College, and a PhD from Wake Forest School of Medicine.
L. Andrew Koman, MD
Chief Medical Officer, Board Member
Dr. Koman is Professor and Chair of the Department of Orthopaedic Surgery at Wake Forest School of Medicine in Winston-Salem, North Carolina. After graduating from Duke University School of Medicine, his postgraduate training at Duke University included one year of Pediatrics, one year of General Surgery, four years of Orthopaedic Surgery and six months of Hand Surgery and Microsurgery. He served on the faculty at Duke for 18 months before joining the faculty at Wake Forest, where he remains.
Chiquita Williams
Chief Operating and Quality Officer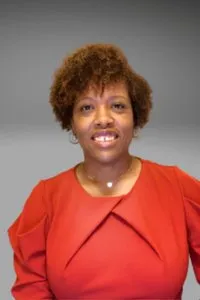 Mrs. Williams has over 20 years of Quality experience including GMP and ISO in small and large companies, including Fortune 500 organizations. She has held several positions such as Quality Assurance Technician, Process Specialist, Calibration Coordinator, Standards Chemist, Lab Supervisor, and Quality Manager in processing facilities and a contract laboratory. In each of these previous roles, Chiquita implemented and practiced standards that optimized the quality of systems and products. As Senior Director of Quality, she is responsible for comprehensive quality as defined by assurance, control, and systems. She holds a BS in Chemistry from Longwood College.
Tracie Moreau, CPA
Vice President of Finance, Secretary, and Treasurer
Ms. Moreau brings over twenty years of business and accounting experience to this role. Ms. Moreau was previously in public accounting for over twenty years prior to joining KeraNetics™. She is well versed in government accounting requirements and setups for government contractors as well as equity transactions particular to biotech companies. Ms. Moreau received a B.S. from High Point University and a MBA from Appalachian State University. She is a Certified Public Accountant.
Carol Blau
Director of Manufacturing
Ms. Blau brings 20 plus years of industry experience in bio-pharmaceutical research, development and manufacturing, including programs bringing new vaccines and natural protein-based pharmaceuticals to market. Ms. Blau has spent the last 7 years leading and developing capability within the manufacturing team at KeraNetics™. In addition to producing keratin biomaterials for unique medical devices, she has been instrumental in implementing robust, cGMP-compliant quality systems, while driving systemic process improvements leading to throughput improvements and cost reduction. She holds a BA in Biological Sciences from University of Delaware.
Chris Holder, PhD
Director of Research and Development
Dr. Holder has spent over 18 years conducting biomedically-relevant scientific research, with more than 4 years of experience specifically devoted to keratin biomaterials and product development. He has participated in or supervised projects investigating burn and wound healing, bone regeneration, muscle regeneration, small molecule delivery, joint therapy, and bacterial pathogenesis. Dr. Holder has broad leadership experience, including laboratory management and teaching responsibilities in academic and biotechnology settings. He also has personnel management experience from his time as a Staff Sergeant in the United States Army Reserve. Dr. Holder holds a BS from Clemson University, an MS from the University of Maryland – College Park, and a PhD from the Wake Forest School of Medicine.
Alexis Gabard
Director of Government Affairs
Mrs. Gabard has over ten years experience in project development and program management and over three years experience in projects related to keratin biomaterials. Mrs. Gabard has worked as an interventionist and study coordinator in human clinical trials, consulted for multi center clinical trials, and acted as a project manager for animal studies for regenerative and trauma medicine efforts. She has a broad leadership experience, including facilitating older adult behavior change groups and initiating multi-county governmental-based action committees. She holds a BA from Wake Forest University and an MS from University of North Carolina, Greensboro.
Robert A. Moreau
Sales and Marketing Manager
Mr. Moreau joined the KeraNetics™ team in 2020 as the Sales and Marketing Manager and brings 25 years of small business, brand development and product launch experience. As a serial entrepreneur, owner and operator he spent 12 years in the silicone and cyanoacrylate industry and another 13 years in the hospitality industry. He graduated in 1992 with a Bachelor of Science in Marketing from Juniata College in Huntingdon, PA, and graduated with an MBA from Wake Forest University in 2020.