Patients and Doctors can do better with KeraStat® Cream
Introducing KeraStat® Cream
for the Management of Radiation Dermatitis
KeraStat® Cream Better Management of Radiation Dermatitis
KeraStat® Cream Empowering Doctors to Do Better with Keratin
Introducing KeraStat® Cream for the Management of Radiation Dermatitis
Our Origin
The story of KeraNetics™ begins in 2008,  when a group of entrepreneurs, scientists and importantly, veterans, partnered with the Wake Forest Institute for Regenerative Medicine to launch a company focused on developing products to treat battlefield injuries…
What is Radiation Dermatitis?
Radiation dermatitis, is a common skin condition (a.k.a. skin toxicity) in head, neck, throat, skin, and breast cancer patients receiving radiotherapy. Patients receive small doses of ionizing radiation to kill cancer cells and shrink tumors. Prophylactic (preventative) use of prescription creams can help delay the onset of symptoms and reduce the severity of symptoms. Treating dermatitis with products like KeraStat Cream will help manage the symptoms of radiation dermatitis:
Redness
Soreness
Pigmentation Changes
Itching

Flaking
Peeling
Blistering
Ulceration
Necrosis
How KeraStat® Cream is Best for Radiation Wounds
Your doctor will typically suggest that you keep the radiated area clean with warm water and fragrance-free soap. They may also suggest prophylactic, preventative, use of products to reduce or delay the effects of radiation wounds or burns. There are currently no known ways to prevent radiation dermatitis; however, there are products on the market for radiation wound care. Consult with your doctor to see if applying KeraStat® Cream after your first radiation dose is right for you and your wound healing after radiation therapy journey.
How do I Apply KeraStat® Cream
Apply after your first radiation treatment. Prepare the treated area by cleaning with warm water and mild, fragrance-free soap.
After the first day, continue to apply two times a day
KeraStat® Cream is a medical product. It is not meant to replace your daily moisturizing routine. Over the counter (OTC) creams can be used in combination with KeraStat® Cream.
Squeeze a small pea sized dab from the tube and cover the treatment area and surrounding skin.
Lightly spread to form a thin layer over the area of skin treated and edges of skin around the radiated area.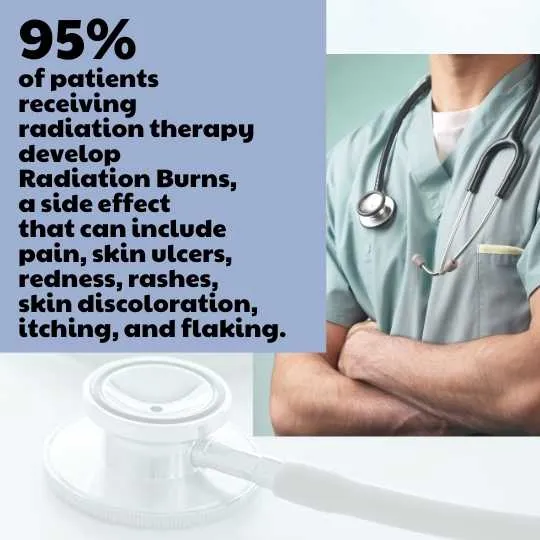 Radiation burn, or radiation dermatitis, can be a side effect of radiotherapy treatments for head, neck, throat, skin, and breast cancers. It is estimated that more than 95% of the 4 million Americans receiving radiation therapy for cancer will develop radiation burns to their skin. Symptoms typically include redness, soreness, pigmentation changes, itching, flaking, peeling, desquamation, blistering, ulceration, or necrosis. These burns can be managed with products like KeraStat® Cream that contain keratin proteins.
Cancer Information and Resources
1 in 3 people will be diagnosed with cancer in their lifetime. If you've been recently diagnosed, or know someone who has, we're here with answers, guidance, and support.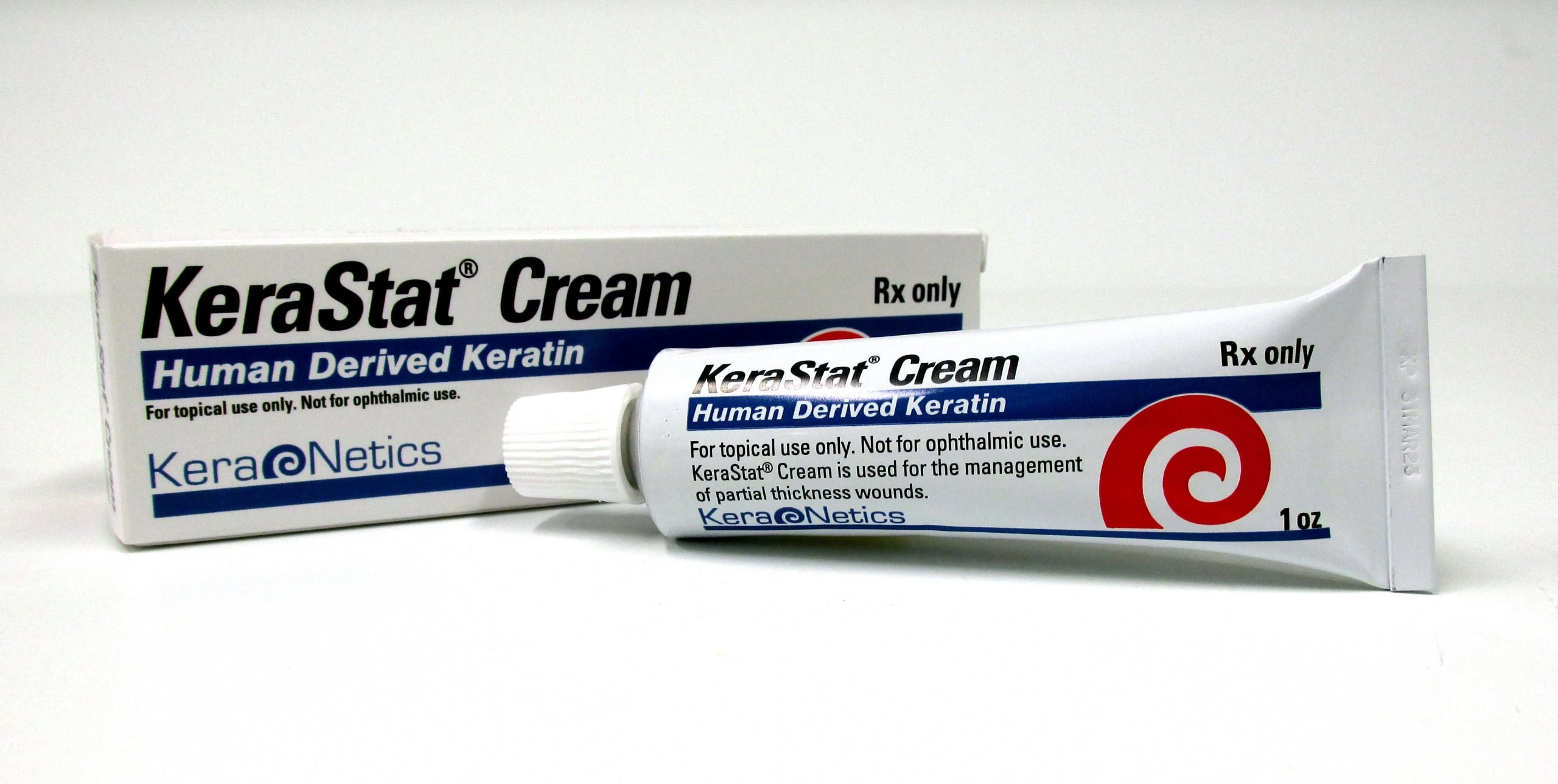 KeraStat® Cream for Radiation Dermatitis
KeraStat® Cream 1 oz. tube for radiation dermatitis, radiotherapy burns
KeraStat® Cream for Wound Care
KeraStat® Cream 5 mL tube for Wound Care.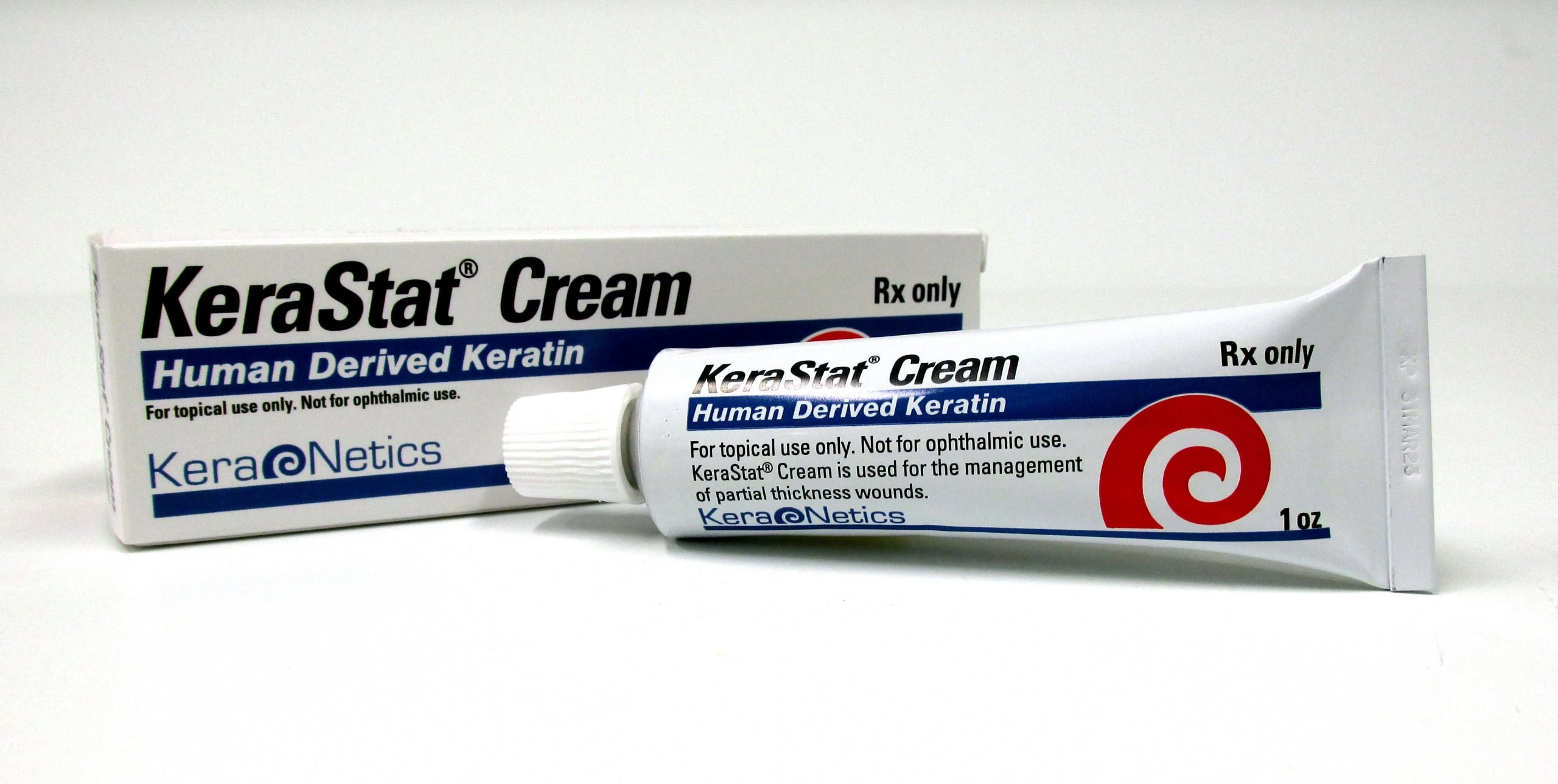 KeraStat® Cream for Radiation Dermatitis
KeraStat® Cream 1 oz. tube for radiation dermatitis, radiotherapy burns
KeraStat® Cream for Wound Care
KeraStat® Cream 5 mL tube for Wound Care.
Introducing KeraStat® Cream, which harnesses the power of keratin proteins to benefit patients undergoing radiation therapy for cancer. Our product is FDA cleared for the management of Radiation Dermatitis.
Who is KeraNetics™ and where did we come from? Our unique story involves soldiers and their traumatic injuries on the battlefield; patients with radiation induced dermatitis from radiation therapy especially patients with head, neck, throat and breast cancers; and more.
You are going through fractionated radiation therapy for head, neck, throat, skin and breast cancer, and you are hearing about radiation dermatitis. What is Radiation Dermatitis from a scientific and patient point of view? Get your answers here.
Nearly 95% of cancer patients undergoing radiation therapy experience radiation dermatitis. Unfortunately, there is no consensus treatment option for preventing or managing radiation dermatitis. Here are some things you can do from home to protect your skin and ease...
read more
According to the Cleveland Clinic, healthcare providers (Radiation Oncologists and Physician's Assistants in Oncology) may recommend creams that help treat severe radiation dermatitis (aka rad derm) or radiation burns.Symptoms of rad derm: Redness (erythema) Soreness...
read more
It is one of the only Rx products currently available in the US market specifically indicated for Radiation Dermatitis. ​The FDA approval process for medical devices is determined by risk classification. KeraStat® Cream received pre-market clearance as an...
read more